We're thrilled to gear up for another summer of helping campers Discover the Difference that Jesus can make in their life. For over 29 years we have been committed to keeping camp costs low, age-appropriate programming, and a fun and safe campus for your church group to enjoy. As we launch our 30th summer providing you a quality summer camp experience, be expectant for all the things you love about Discovery Camp to remain, as well as some new updated features that we believe will help you love us a little more…. 😉
The 30th year is a great season to bring some new updates and review our processes and procedures, camp-wide. Where you can find all of these updates on the website, we wanted to highlight a few for you right here. The adjustments that will affect you the most right now is some of our registration policies. Even if you're a camp veteran you need to pay close attention to ensure your camp process is better than ever.
Expected Camper Range
Reservation will now ask for a range of campers in attendance, versus an exact number. We understand camp is still weeks (and months!) away and it can be tough to nail down exactly how many campers are coming to camp until the date gets closer. The expected camper range will stay in effect until your Group Agreement Form is completed. Camper Range can adjust in either direction as many times as needed until the Group Agreement Form is on file.
Group Agreement Form
The Group Agreement Form is not a new concept to many of our Group Contacts. The form ensures that Discovery Camp is prepared to serve your church group by knowing how to prepare for beds, food, activities, etc. The Group Agreement Form due date has been extended from 30 days after your confirmation to 10 business days before your camp experience. This means that if you register in January for a July camp, your form isn't due in February, it's due in July, right before camp.
No-Show Attendance Adjustment
There's always that ONE student (or 2… or 3) who say they are coming to camp, have their paperwork in, and yet the morning of decide to pull out. Doesn't this 14-year-old know that he just messed up your WHOLE Group Agreement Form? You were signed up for 10 and now you are only bringing 9! Life happens and we understand you don't have control over some of those situations. Now, you won't be responsible to pay full price for the campers who do not show up, you simply forfeit the deposit of their spot. Any increase in your number will require an updated Group Agreement Form.
Deposit Policy
We've been faithful to keep camp rates low for 29 years! While those rates aren't changing, the structure of how they are paid is. Our deposit policy has been adjusted to support the groups on a per individual camper basis. This helps groups who are bringing 8 campers or 80 campers to have a payment structure they are comfortable with. The due date for these group deposits has also been delayed from 30 days after your confirmation, to the 10-day marker! This also means your deposit amount will be fluid and changing until the 10-day marker. For more info on the policy adjustment, check out the FAQ section for those answers.
DC Dashboard
Last summer we launched the "DC Dashboard" for our Group Contact. "A digital space for you to keep all your campers in place." Our DC developers have been hard at work to provide a 2.0 version for this summer, and we believe you're really going to like all the new upgrades. Upon receiving your confirmation number to your reservation you will also receive access to your Dashboard. In the Dashboard you can do the following:
– Add campers to your roster
– Upload the paperwork
– View which campers have signed up and paid online with the Sign Up Code
– Complete your Group Agreement Form
– Download Resources that will support you as you prepare for your summer camp
The greatest part of using the dashboard is that there is zero paper to mail, fax, or email to our Reservation Offices. When it's in the Dashboard, our team has access to everything they need. While it's still an optional feature to use, for now, we believe it will keep your sign-up process stress free as the details for camp get going.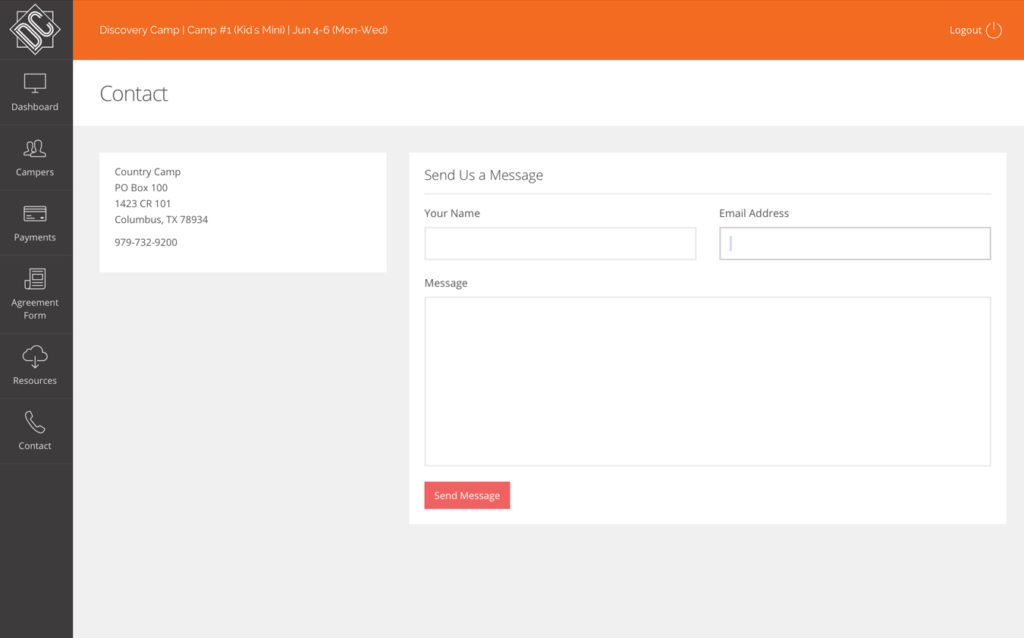 Group Sign Up Codes
You asked! We listened! Welcome the coolest update to date for signing students up for Discovery Camp. We spent our 29th summer hearing, "I love the Dashboard, but I just wish the parent could sign them up on our behalf." We'd like to introduce that very option this summer. We call it the "Sign Up Code", and every single church group reservation will receive one of these unique 4-characters code to give out to your parents and the potential audience. By using your Sign Up code on DiscoveryCamp.org, individuals can complete the Camper Reservation Form and even pay for their camp experience. All submissions through the Sign Up code go straight to your dashboard where you can monitor the progress instead of chasing parents across your church parking lot trying to get paperwork completed.
We are more committed than ever to helping you get your students to Discovery Camp to Discover the Difference. We believe all of these adjustments will help make your registration process smoother and stronger than ever.